History of Schieffert Farms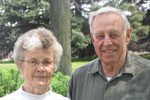 The Schieffert family began farming over 50 years ago when Gene Schieffert (Tim and Dave's dad) partnered with Russell Peterson (Tim and Dave's grandfather) and began farming northwest of Sleepy Eye. Their farming operation consisted of corn, soybeans and Del Monte crops as well as hog production.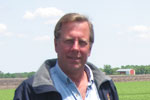 Tim joined the partnership in the early 1980's after he graduated from the University of Minnesota. Russell retired at that time from farming.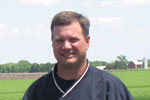 Dave graduated from the University of Minnesota in the mid 1980's and rented a farm and also became a partner.
In 1995 and 1996, Tim and Dave built the hog finishing portion of their business which has proved to be a good addition to Schieffert Farms. Careful manure management has reduced the need for commercial fertilizer on many corn acres while improving yield potential.
In the late 1990's Gene retired from farming leaving Tim and Dave as equal partners. Schieffert Farms has experienced careful and steady growth over the years. This has been the result of a group of landowners who believe in them as well as a group of employees with a lot of pride and energy who treat Schieffert Farms as if it was their own each and every day.